Friday, February 8, 2013 | 9:33 AM
Labels: Culture, France, Germany, Italy, Russia, Spain, United Kingdom, YouTube
The Internet is sometimes accused of damaging the traditional entertainment industry. But a new study shows that the opposite is true: the Internet is driving creativity and revenue opportunities in a way never before seen. The report, sponsored by CCIA, a trade association that counts Google as a member, and produced by market research firm Floor64. It concludes that both production and revenues are increasing in six key European markets for the book, video game, film, and music industries.

A previous version published in 2012 concluded that rising consumer spending likely boosted the entertainment industry in the United States by 50 percent in the decade since 2000.

The present report looks at France, Germany, Italy, Russia, Spain, and the United Kingdom. It shows how the Internet offers creators and artists opportunities to thrive. Technology and online platforms are helping creators make more money every year, both online and offline. The eBook market, for example, saw double-digit growth in all jurisdictions studied between 2010 to 2011.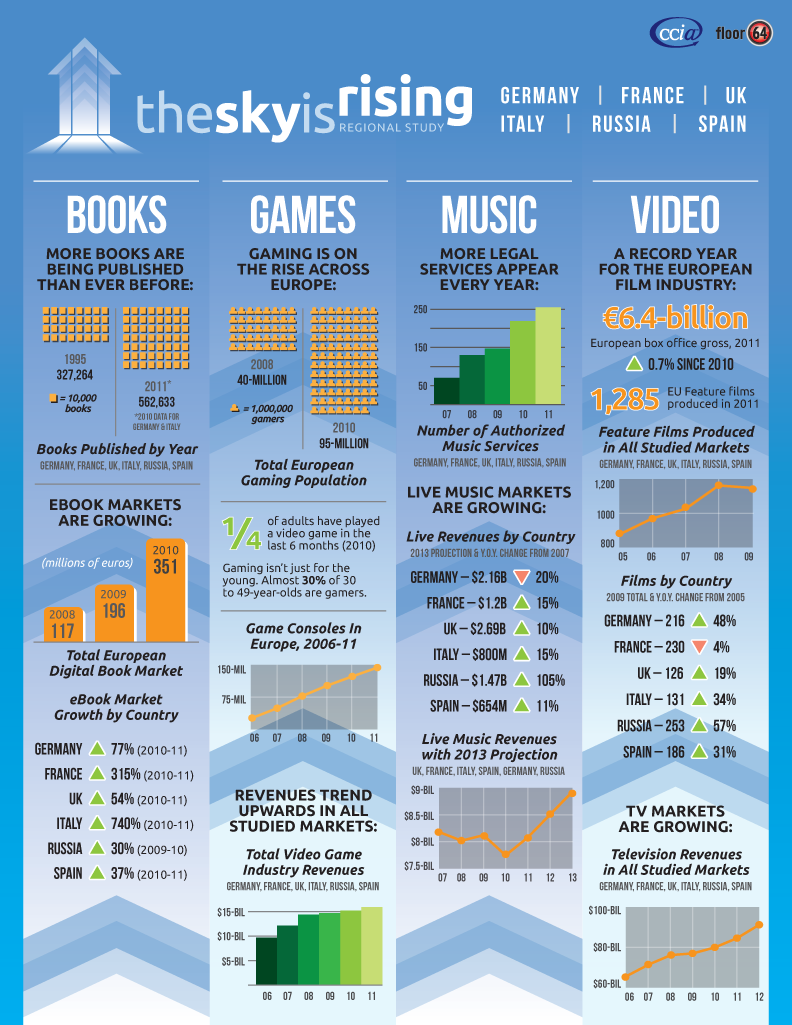 The Internet brings big benefits to content makers. It lowers their cost of production and distribution, while opening up a new online market. In Germany, for example, Sami Slimani started a lifestyle and fashion channel on YouTube and now has hundreds of thousands of subscribers and over 70 millions views. In the UK, The Slow Mo Guys began experimenting with high-speed cameras in 2004 and now have well over a million subscribers to their YouTube channel.

Online platforms are expanding fast. On YouTube, video uploads have been increasing exponentially. By the end of 2012, more than 72 hours of video was being uploaded to YouTube every minute, a 30% jump from the beginning of the year. YouTube is also paying out more money to our partners. Thousands of channels are now earning over six-figures a year. The music industry alone is currently making hundreds of millions of dollars annually from having their content on YouTube.

We are in a time of transition from one model of production and distribution of media and culture. While certainly that transition won't be easy for everyone, the future remains bright for European artists, creators, and the industries that support them.

Posted by Alex Kozak,, Public Policy and Government Relations Analyst